Espa Silen ST Pump
The Espa Silen ST Pump is a monobloc centrifugal pump with built-in pre-filter for filtration and purification equipment for large and medium-sized swimming pools. Designed for large flows (public pools, water parks, fish farms, ...), it is available in 6 power models from 3 to 15 HP, in three-phase versions.
The high-capacity pre-filter, made of cast iron and with a stainless steel basket, is incorporated into the pump on a base, through standardized flanged connections.
The aspirations are axial and the impulsions are superior radial, with a system of standardized counterflanges for a reliable and simple installation.
It comes with models that operate at 2,900 rpm for large pools.
Motor protection in this type of facility must be carried out in a command and control panel general external to the electric pump.
Monobloc centrifugal electric pump with dimensions according to EN733 standard for water recirculation in large and medium-sized swimming pools:

Public and collective residential swimming pools.
Amusement rides and water parks.
Large installations that require pumping that require a large pre-filter.
Materials
Pump body and large capacity cast iron pre-filter. The pre-filter is incorporated into the pump on a bench, through connections with standardized flanges.
Stainless steel filter basket, impeller and shaft.
Mechanical seal in graphite/ceramic.
Aluminium motor casing.
NBR gaskets.
Engine
IP 55 protection.
Class F insulation.
Stainless steel screws.
Galvanized iron flanges.
Electrophoresis painting, ensuring the motor a great resistance to corrosion.
Connections
Supplied complete with suction and discharge connection flanges.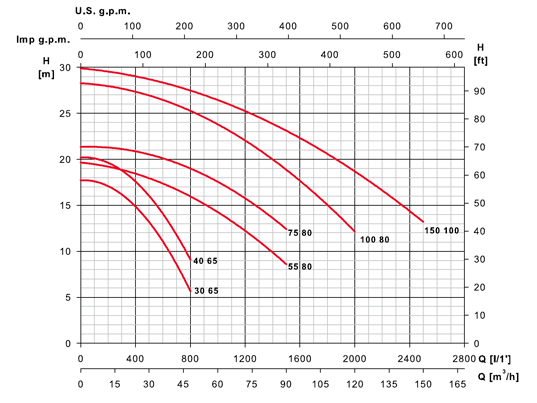 Spare parts for this product
Más Self-priming pumps que podrían interesarte