Dolphin E25 robot pool cleaner
Bottom cleaning and pool walls with a maximum length of 10 meters, in a cleaning cycle of 2 hours. Double function: active front brush + dirt suction to the internal filter, easily removable for emptying. Easy-Clean basket with easy access with 2 levels of filtration: spring and ultrafine.
Cleaning the bottom, walls and waterline, in a 2-hour cleaning cycle. For pools up to 10m long.
Compact design, ergonomic and lightweight. Weighing only 6.5 kg and with a front carrying handle, the Dolphin E25 is a pool cleaner that is easy to handle and move around.
Quick water release system that facilitates the extraction of the robot from the pool.
Traction with caterpillar tracks for perfect adherence capacity on all types of surfaces: tile, liner, polyester, concrete, etc.
Front active brush. It spins at twice the speed of the robot and becomes your best ally to deal with dirt and prevent fouling.
CoverageCleverClean™. Navigation system for precise pool scanning, ensuring optimal pool coverage.
Optimal filtration. The Easy-Clean basket includes interchangeable panels that allow you to select the desired level of retention for each occasion: spring filters (beginning of the season or collection of coarse residues) or ultra -fine filters (usual level of filtering throughout the season).
Low consumption power supply with integrated weekly programming system.
Cable 15 meters long.
Low consumption power supply with weekly programmer.
</a >
E10
E20
E25
E30
E35
E40i
Code

500966

500968

500967

500969

500919

500921

Bottom

Yes

Yes

Yes

Yes

Yes

Yes

Walls

-

Yes

Yes

Yes

Yes

Yes

Waterline

-

-

-

Yes




with side sweep< /span>

Yes




with side sweep< /span>

Yes




with side sweep< /span>

Active brushes

1




front</span >

1




front</span >

1




front

2




front + back< /span>

2




front + back< /span>

2




front + back< /span>

Filtration

Basket




spring filter</ span>

Easy-Clean Basket




spring filter

Easy-Clean Basket




spring filters + ultrafine

Easy-Clean Basket




spring filters + ultrafine

Easy-Clean Basket




spring filters + ultrafine

Multilayer Easy-Clean basket




ultrafine filters + pre-filter basket

Cycle duration (h)

1.5 hours

2 hours

2 hours

2 hours

2 hours

1 / 1.5 / 2 / 2.5 hours

Remote control

-

-

-

-

-

Smartphone




(App MyDolphin Plus )

Cable length (m)

12

15

15

18

18

18

Transport car

-

-

-

-

Yes

Yes

Suction flow rate (m³/h)

15

15

15

17

17

17

Filter type

Top Access

Top Access

Top Access

Top Access

Top Access

Top Access

Power supply

Basic 230V

Basic 230V

Advanced multifunction 230V

Basic 230V

Basic 230V

IoT 230V




Bluetooth + Wifi

Consumption

29V DC - 120W

29V DC - 120W

29V DC - 120W

29V DC - 120W

29V DC - 120W

29V DC - 120W

Maximum pool length (m)

8

10

10

12

12

12

Weight (kg)

6,3

6.5

6.5

7.5

7.5

7.5

Guarantee

3 years

3 years

3 years

3 years

3 years

3 years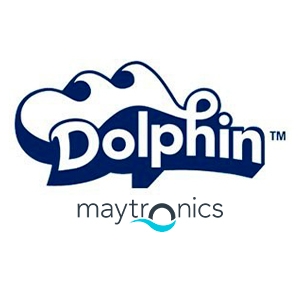 Data sheet
Limpieza (superficie)

Fondo y Paredes

Control remoto

No

Tipo de filtro

Cartucho

Tipo de limpiafondos

Robots

Product type

Pool Cleaners
Más Limpiafondos Automáticos Electrónicos (Robots) que podrían interesarte