Dolphin W20 pool cleaner
Dolphin W20
For shallow pools, it works with depths as low as 20 cm up to 5 meters.
Intense active brushing system
Advanced scanning system and optimal coverage
Effective filtration of sand and sediment
Dynamic traction system, which avoids obstacles
Smart scan with built-in gyroscope
Double traction motor
Remote control to set cycle length
Cleaning coverage of floors
floors
Filtration
Fine and ultra fine bag
Swivel - Cable anti-knot system
Remote Control
Exhaustive and quick cleaning of shallow pools. The ONLY automatic pool cleaner that can work in pools as low as 20 cm deep. Incorporates the most advanced technologies in automatic cleaning, it cleans normal children's pools or those with beach-type entry and decorative pools or fountains of any size .
Patented Dolphin Knot-Free Cables eliminate tangled cables forever!
As your Dolphin moves through the pool, the Swivel ensures that the cable will remain free and clear of tangles, allowing complete coverage of the pool.
The CleaverClean ™ scanning system uses advanced gyroscope navigation software. This ensures that every meter of the pool – walls, floor and waterline – will be cleaned using the most efficient working path. It's so smart, the system automatically navigates around obstacles and quickly returns to its normal working path.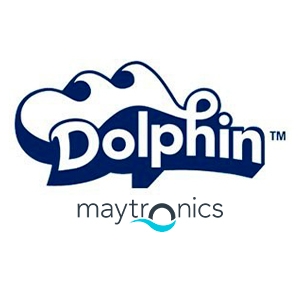 Data sheet
Limpieza (superficie)

Fondo

Control remoto

Si

Tipo de filtro

Bolsa

Tipo de limpiafondos

Robots

Product type

Pool Cleaners
Más Limpiafondos Automáticos Electrónicos (Robots) que podrían interesarte